THEY ASK ME WHAT I DO FOR A LIVING AND I SAY I AM FASHIONISTA.
Hey my fashionable lovies! Sorry for the almost week-long hiatus! But that's the result of a good vacation and even better holiday! I hope you all had a great Turkey Day! I've been enjoying lovely Atlanta all week having the time of my life! But even on vacay, I managed to catch a couple glimpses here & there of this week's fashion scene amongst my gorgeous celebrity fashion guru's. I decided to do more than 10 looks this week as this year comes to a close in the upcoming weeks - you can still see 2007's seasonal trends still in full effect. Ahh, that makes me even more excited for 2008's trends!
Let's see the run down, shall we?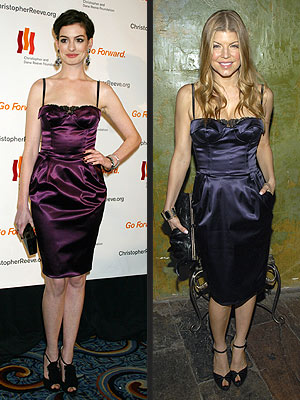 STOP!
Wait a minute Fergie. I knew my fashion eye didn't deceive me. She's wearing the same
D&G
dress that Anne Hathaway wore last week on my top list! Question is - Who wore it better? I think Anne pulled it off better!