PICTURE PERFECT FASHIONISTAS.
This week's top tasty looks were so ultra chic that I just didn't know what to do with myself! Well, I did feel my shopping hand start twitching a bit. Where are those shopaholics anonymous classes? lol. Anywho, when I compiled my favorite celeb looks, I surprisingly saw some similar trends going on between the ladies & I grouped them as such! Keep glamming it up divas! ;)
Nicole Richie
&
Cameron Diaz
are both fall fashion prepared! Keeping their lovely locks in place with berets (
hot trend
) and two different styles of boots - booties (
hot trend
) Are those Louboutin Nicole?! I see
RED
bottoms! & the classic knee boot that Cam is wearing. I am loving Cameron's jacket. It's classic! That rich navy blue color is just doing it for me.
Natalie Portman
&
Kerri Washington
were both looking flirty in their mini dresses above the knee (
hot trend
) this week. I love the
pink
color on Natalie's dress, it definitely pops. Kerri's dress fits her to a
T
. She picked the perfect dress for her bust! You
HAVE
to have proper support for your bust if you're going strapless ladies.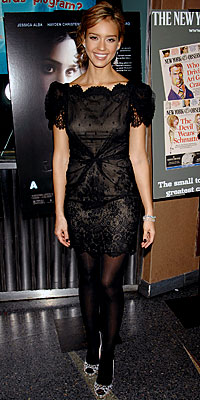 Jessica Alba
&
Lauren London
both wearing vintage hollywood looks. I love the detailing & cut of Jessica's dress. Timeless. However, I'm not too sure about stocking with open toe shoes, minus points on that look. Lauren looks flawless in her dress and the color is just right. I love the mini waist belt! And even with the plunging neckline she still looks classy with a touch of 40's hollywood - p.s. I love her shoes too! lol
Anne Hathaway
&
Jennifer Hudson
look gorgeous in their bubble hem dresses. (
hot trend
) This look is one of few that actually looks flawless on any shape. As it can either give you curves like it does with Anne or it can minimize your curves in Jennifer's case. It's all about PROPORTION for your shape! ps. I love the idea of pockets on party dresses, that is GENIUS! (i.e. Jennifer's dress)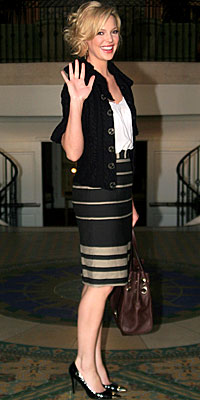 Alicia Keys
&
Katherine Hiegel
looked effortlessly polished this week. Both ladies are definitely wearing classic looks that could work for either day or night. I just adore Alicia's fitted blazer (
hot trend
) and Katherine's line printed skirt. Lovely!