As October comes to a close, it is surely not going out without a big bang. There have been several events this month catering to aid in funding for Breast Cancer research. Olivier Theyskens, Artistic Director of Nina Ricci, recently hosted the Couture Cares: A Benefit for Breast Cancer at the home of design extraordinare Kelly Wearstler, a handful of Beverly Hills A-listers came out to lend their support to the event. Guests like Rashida Jones and Lori Loughlin enjoyed an amazing day that featured a re-creation of Theysken's Spring/Summer 2008 Paris fashion show and a elegant, formal luncheon, all in support of the Revlon/UCLA Breast Center.
The Guestlist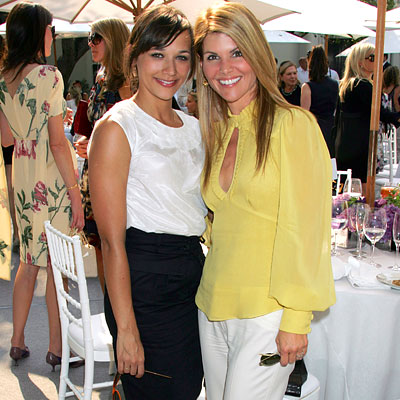 Rashida Jones and Lori Loughlin looking amazing.
Amber Valletta wearing Nina Ricci. Haute.
(Extra Tidbit: "I did Olivier's show in Paris probably ten years ago. We go way back," recalled Amber Valletta. In addition to her connection with the designer, Valletta was also inspired to attend because of her personal experiences with breast cancer. "My mom and my two grandmothers have all had breast cancer and they're survivors. It's great to be here to celebrate life," Valletta said. ) -Quote courtesy of Instyle.com
Olivier Theyskens & a model wearing one of his designs.
(Extra Tidbit: "In Paris it's a special crowd of people who see all the shows all day, but here there is another spirit because this crowd is coming to see it and enjoy it," said host Olivier Theyskens of bringing his spring show from Paris to Los Angeles. "It was great. I was very happy," the designer declared at the post-runway lunch. A Nina Ricci trunk show also offered guests the chance to shop, with 10% of all purchases donated to Revlon/UCLA Breast Center) -Quote courtesy of Instyle.com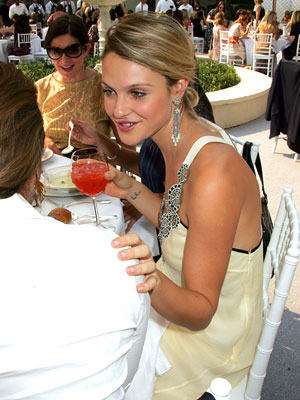 Beau Garrett one of the spokesmodels for Revlon looking lovely.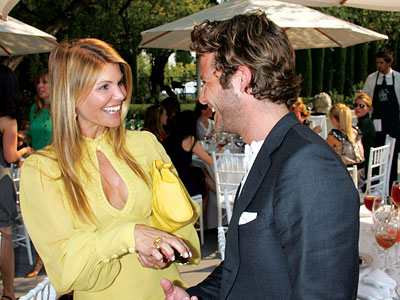 Lori chatting it up with interior designer Mark Berkus.
(Extra Tidbit: Lori Loughlin was giddy when she met interior designer Nate Berkus, her secret crush. "I told my husband I had a crush on Nate," Loughlin admitted. "I saw him on Oprah and I think he's so talented and so charming. He's so cute!" Still, meeting Berkus didn't distract Loughlin—or any of the other guests—from the importance of the event. "First and foremost I'm here to support breast cancer research," she said.) -Quote courtesy of Instyle.com

For more info on how you can lend a hand to breast cancer research
visit UCLA'S Breast Center website: